Obtaining additional funds with the lower-ranking real estate financing
The Swiss Bankers Association stipulates that for the financing of an investment property, the borrower must provide at least 25% of the value of the property. The debt must be amortized within a maximum of 10 years to two-thirds of its value.
An example of a concrete case
If you want to acquire a building of CHF 3'000'000 (100%), you will need to bring in CHF 750'000 of your funds (25%) to finance such a project. You could take out a mortgage loan with your bank for CHF 2'250'000 (75%).

As mentioned above, you must amortize the debt to two-thirds of the value of the building within 10 years. Therefore, within 10 years, your debt of CHF 2'250'000 should be CHF 2'000'000 (2/3 of CHF 3'000'000).
Purchase of a building: CHF 3'000'000 (100%)
Equity: CHF 750'000 (25%)
Mortgage loan: CHF 2'250'000 (75%)
In 10 years: Debt of CHF 2'000'000 (2/3 of CHF 3'000'000)
What is the problem with this type of operation?
The problem is that a good part of your liquidity will be blocked on this transaction. This is the reason why some financial institutions have specialized in subordinated loans. This type of loan, also known as a "mezzanine loan" or "junior loan", is a junior debt.

In other words, investment property, allows the borrowed capital to be increased up to 80% of the value of the loan, which allows the borrower to obtain additional equity since he will have to bring only 20% instead of 25%.

This increases the loan applicant's financial flexibility and will allow him to further develop his real estate portfolio.
The subordinated loan as an alternative solution
Unlike a traditional loan, it is important to note that the debt is repaid at maturity, between 12 and 36 months maximum, and is not amortized.

The mezzanine loan presents an additional risk for the lender, which is why the interest rate is higher than senior debt and the repayment terms are less favorable than those of senior debt.

Even if the investment property serves as collateral, it does not exclude the risk of partial repayment. The forced sale of the property could result in a sale price below the market or purchase price, which is a significant risk for financial institutions.

In the event of bankruptcy, the debt will be repaid once the preferred claims and the ordinary creditors have been repaid, which is called a total discharge.
Let's take a second concrete case
If we take the example of a building, it will be repaid in priority by debt in first rank, then in a second time, the balance will be used to repay the debt in second rank.
Example 1
If you want to purchase an investment property for CHF 1'000'000, the bank will ask you to provide a minimum of 25% of equity, which represents CHF 250'000.

You could bring 20% of your funds, which means CHF 200'000, and take out a subordinated loan for the last 5% (CHF 50'000) that the bank requires.

Thus, you would have the minimum equity of CHF 250'000, to realize your project. All other conditions must be met.
Purchase of an investment property: CHF 1'000'000
Equity: CHF 250'000 (25%)
With a subordinated loan: We provide CHF 200'000 in equity (20%) + the subordinated loan CHF 50'000 (5%)
Example 2
You own an investment property valued at CHF 1'000'000, with the first mortgage of 66% of the value of the property (CHF 660'000).

You could ask for a subordinated loan to increase your mortgage up to 80% of the value of the property (CHF 800'000) and generate liquidity up to CHF 140'000 (14%).
Purchase of an investment property: CHF 1'000'000
1st rank mortgage: CHF 660'000 (66%)
Application for a subordinated loan: CHF 800'000 (80% of the value of the property)
Additional liquidity: CHF 140'000 (14%)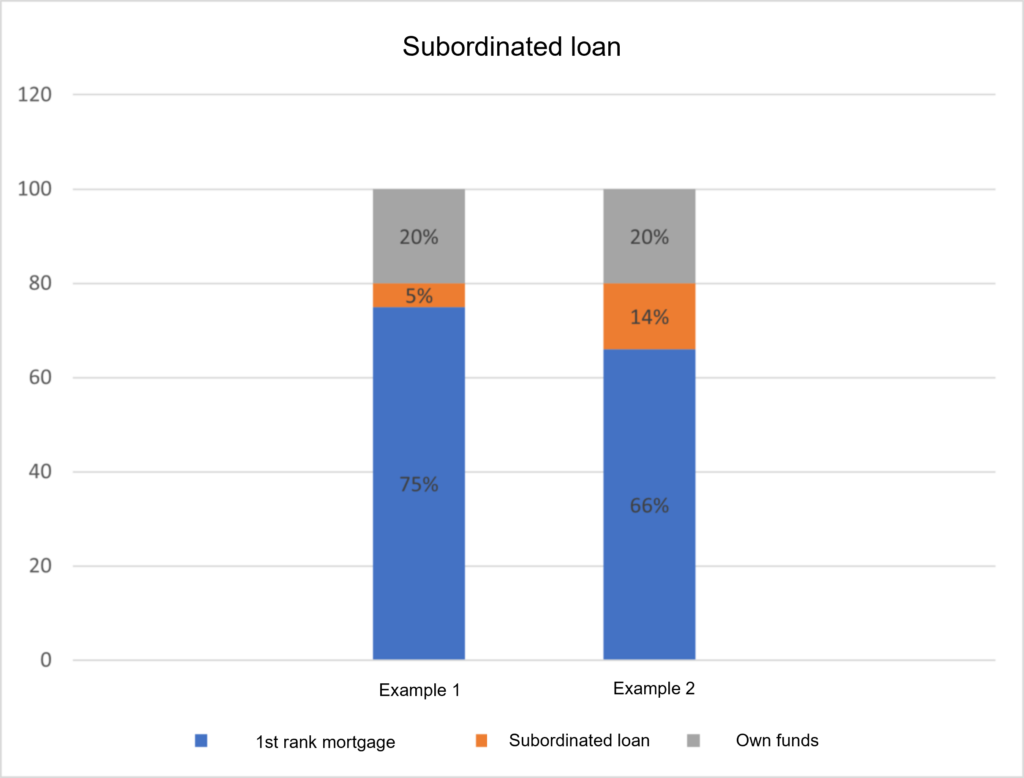 It provides additional equity capital.
It offers the potential for the rapid growth of your portfolio.
Flexible terms of up to three years.
Trust PrestaFlex for your financing
Working with PrestaFlex means working with one of the best corporate finance providers in Switzerland. Like the subordinated loan, we offer a multitude of options to finance your project. Whether it is for working capital financing, revolving credit, real estate financing, financial leasing, or refinancing, our advisors will accompany you throughout the process.

PrestaFlex, your trusted partner.